ALLAN PHILLIPS
One of the leaders of a generation of Composer-Producers with one eye on tradition and another eye in the future.
Prodigiously Gifted Composer
Multi-Instrumental Virtuoso
Skilled Communicator of Musical Expression
Relentlessly Energetic
Direct. Determined. Confident. A True Innovator

Multi-instrumentalist, Venezuelan born, of African descent. He has the ability to incorporate traditional music from all around the world into the classical as well as the contemporary realm. Allan has won recognition for acclaimed album productions, recording sessions and performances with Donna Summer, Kenny Loggins, Al Jarreau (U.S.A.), Sergio Mendes (Brazil), Zap Mama (Europe/Africa), Eva Ayllon (Peru), Thomas Mapfumo (Zimbabwe), Habib Koité (Mali), Vusi Mahlasela (So. Africa) and Regino Gimenez (Cuba).
News
May 16, 2016 - DEBORA GALAN / Arms of Love, from the album All About Love

Remember to pause the music jukebox at the top left before playing this video.





Jan 13, 2016 - PIWAI / Zhara, from the album African Turquoise

Remember to pause the music jukebox at the top left before playing this video.


Communicator Award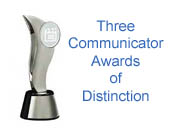 Allan composed and produced music for Clark Marketing Solutions, earning three Awards of Distinction from the 2011 Communicator Awards (overseen by The International Academy of the Visual Arts), in the categories of audio production, jingle production and video production/use of graphics.  The agency's award entries comprised creative work that was developed during the 4th quarter of 2010 for automotive client Diamond Valley Honda.
THE 17th ANNUAL COMMUNICATOR AWARDS ANNOUNCES 2011 WINNERS
EXCELLENCE AND DISTINCTION WINNERS NAMED
New York, NY (May 30, 2011) - The winners of The 2011 Communicator Awards have been announced by the International Academy of the Visual Arts today. With thousands of entries received from across the US and around the world, the Communicator Awards is the largest and most competitive awards program honoring the creative excellence for communications professionals. Please visit www.communicatorawards.com to view the full winners list.
The Communicator Awards is the leading international awards program honoring creative excellence for communication professionals. Founded by communication professionals over a decade ago, The Communicator Awards is an annual competition honoring the best in advertising, corporate communications, public relations and identity work for print, video, interactive and audio. This year's Communicator Awards received thousands of entries from companies and agencies of all sizes, making it one of the largest awards of its kind in the world.
Click here to see the ad that won three creative awards